Discover the best of Tamarindo: surf, beach water sports, fishing, kayaking & more! Experience unforgettable outdoor adventures with our top tours.
Discover the best of Tamarindo: surf, beach water sports, fishing, kayaking & more! Experience unforgettable outdoor adventures with our top tours.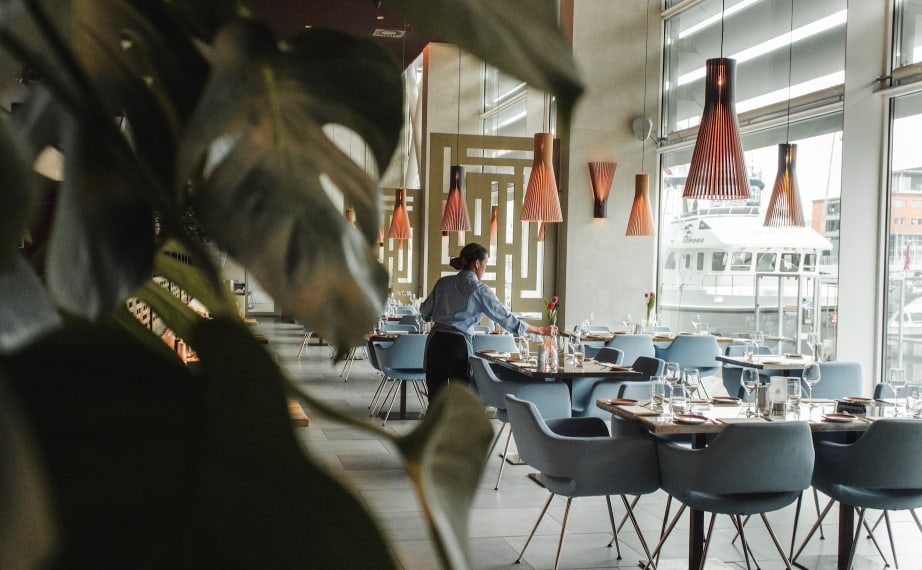 Tamarindo is one of the most attractive tourist destinations in Costa Rica. It is known for its beautiful white sand beaches, luxury resorts, high-quality restaurants and so many things in between. The natural beauty of the beach town of Tamarindo attracts thousands of digital nomads, surfers, families, and tourists from all over the globe. Looking for the best Tamarindo tours? do not worry! We've got you covered.
Tamarindo is filled with a wide variety of tours and adventures including surfing, kayaking, SUP, fishing, beach water sports, and other outdoor activities. Tamarindo has all kinds of outdoor experiences, tours, and adventures that will make your trip to Tamarindo unforgettable!
Can't wait to discover the wonderful Tamarindo? here are the top Tamarindo tours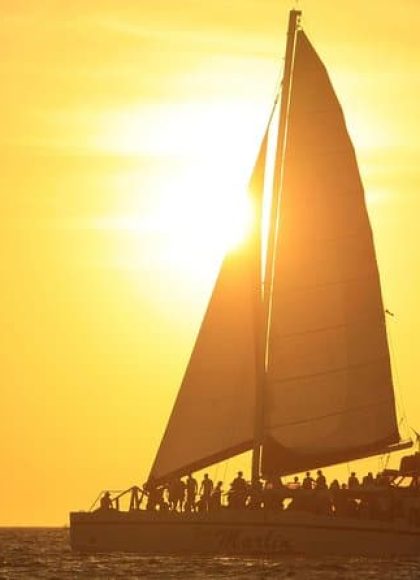 Marlin del Rey Catamaran Sunset Cruise Tour
If you're looking for something that can make your trip much more entertaining and relaxing, you must go sunset sailing taking a sunset cruise through Tamarindo Bay! In this tour of a few hours, you get to relax and see the magnificent views of beaches and shining water in your surround, wildlife, and of course, an epic sunset. It offers other activities such as snorkeling, kayaking, and other water sports activities. Although this tour is offered during the morning it's recommended for a sunset cruise afternoon to enjoy your favorite sunset.
Sunset catamaran tour – a unique experience with snorkeling in crystal waters
66-foot (20-meter) boat leaves plenty of room to enjoy sightseeing on the way
Spot wildlife includes dolphins, sea turtles, flying fish, whales, and more
The open bar of Marlin del Rey Catamaran Cruise offers drinks, beer, & wine
A great tour suitable for everyone with a delicious lunch and unbelievable sunset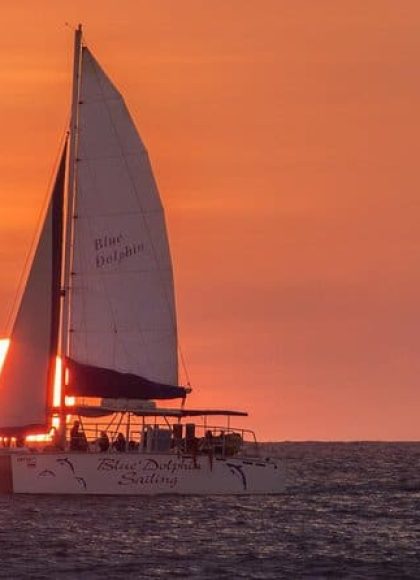 Blue Dolphin Catamaran Sunset & Snorkeling Tour
Among the sunset tours and catamaran cruises in Tamarindo, Blue Dolphin is people's favorite because it offers the most adventure with activities like snorkeling, kayaking, and sunset at the end of the day. Explore the clear and crystal waters off Guanacaste. Aboard the Blue Dolphin, a 40-foot catamaran cruise with an open bar, food, snorkeling, and kayaking. This tour offers a lookout for dolphins, sea turtles, whales, and spectacular coastal views from the cruise. 
One of the best sunset cruises in Tamarindo
A chance to go snorkeling in crystal-clear waters
Incredible sightings include dolphins, sea turtles, and whales
Stunning views of Tamarindo sunset with a meal and snacks
Snorkeling equipment and safety tips provided on board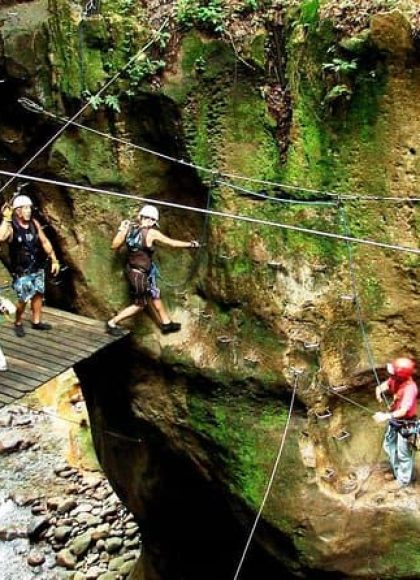 Guachipelin Full-Day Tour
If you are looking for a full day of fun and adventure, Guachipelin is one of its kind tour that includes some of the best outdoor activities. With this tour pass, you can enjoy a lot of things such as ziplining, horseback riding, white water tubing, lunch, and much more. In this action-packed day tour! You will be provided with instruction for all the activities, and guides will ensure your safety and make sure you have a great time! The adventures, the views of the river, canyons, and wildlife are unbeatable and making it one of the best tours. 
Enjoy a full day of unlimited adventure with a buffet lunch
End your day with a soak in the hot spring pools of Rio Negro
Go for a volcanic mud bath pr horseback riding, and other activities 
Best tour for travelers looking for the ultimate adventure in Costa Rica 
Round-trip costs, hotel, transportation, and lunch included in the tour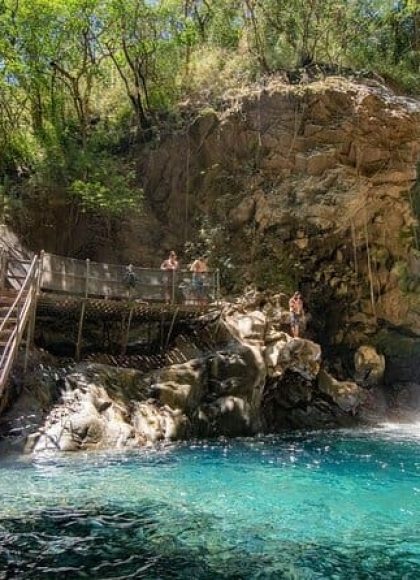 Rincon de la Vieja Volcano National Park Tour
If you want to discover the volcanic landscape of Costa Rica, Rincón de la Vieja National park tour can be a great choice. The national park is home to a giant and active volcano known as the "Colossus of Guanacaste". Rincon de la Vieja National Park is also part of the UNESCO World Heritage Site. The park is split into two sections, and both sections have several hiking trails leading to beautiful viewpoints, breathtaking waterfalls, and natural attractions. It's also home to 300+ bird species and many mammals, including white-faced howler monkeys, armadillos, collared peccaries, pumas, and white-nosed coatis. 
Enjoy a 2-hour hike in Rincon de la Vieja National Park 
Explore local wildlife and view local flora & fauna 
Swim at oropendola waterfall and hot springs inside the national park 
A delicious Costa Rican lunch is included in the tour 
One of the best tours with hassle-free pickup and drop-off from Tamarindo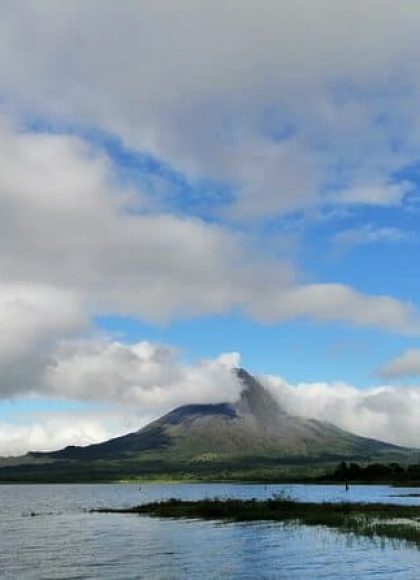 Arenal Volcano Hike & Hot Springs tour
If you're curious to know more about volcanos and looking for a tour that's unique, this tour is especially known to offer that. You get to chance to discover the amazing scenery of one of Costa Rica's most active volcanos, Arenal. While you trek through the rainforest and old lava fields from previous eruptions, a specialist guide will share information about the area and the natural history of the active volcano. After you hike and visit the volcano, you can also relax in the natural hot springs.  
Hike through the striking lava landscapes of Arenal Volcano
Explore the Volcano and know more about it from your expert guide 
A great tour for hiking enthusiasts and travelers looking for landscapes
Soak & relax in natural mineral hot springs located around the area 
Hotel pickup and drop-off, breakfast, water, and lunch are included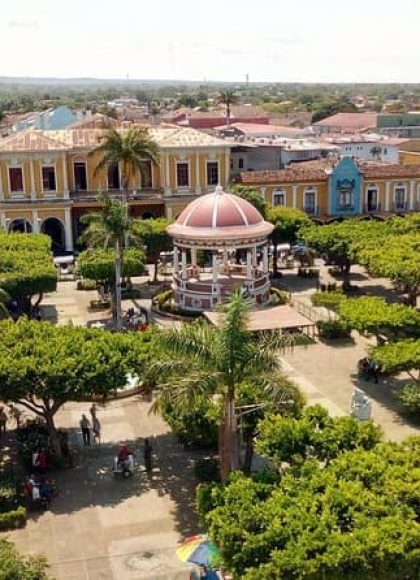 Nicaragua One-Day Tour from Liberia, Costa Rica
What about visiting another country with your Tamarindo tour? Nicaragua is a beautiful country in Central America which is known for its dramatic terrain of lakes, volcanoes, and beaches. You can go shopping at the artisan markets, or explore the colonial town of Granada which is considered one of the best and most beautiful towns in the country. So, if you're looking for a unique tour with many things included, this full-day tour is at the top of this list. Just grab your passport and head over the border for a whistle-stop tour of Nicaragua.
Chance to visit the highlights of Nicaragua in just one day 
Insightful details about the country and it's culture by your guide 
You can go for a boat ride viewing the islets of Lake Nicaragua
Discover the natural beauty and heritage of Nicaragua
The tour includes breakfast, lunch, and Lake Nicaragua cruise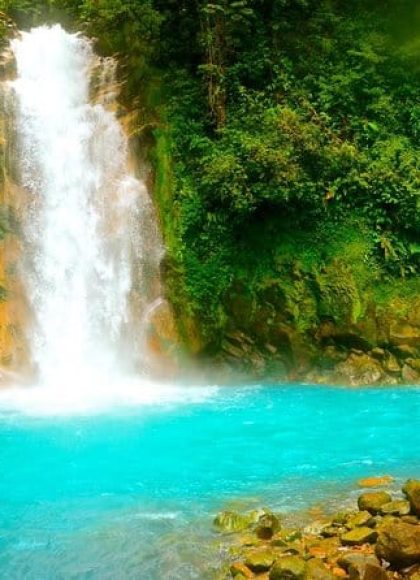 Rio Celeste Hiking & Waterfall Tour
Rio Celeste National Park hike is also one of the best tours in Tamarindo. You will enjoy the views walking along the rugged trails, and truly beautiful rainforest, and once you will get there you will be amazed by the very epical blue water. It's one of the most beautiful Costa Rica's hidden natural wonders that lets you experience the beauty of Costa Rica's natural landscapes. Rio Celeste is 2 hours away from Tamarindo and you need to plan your tour and reach early at the national park. This isn't for everyone, however, it is definitely worth it and we can only recommend doing it if you are fit and up for it!
Experience the beauty of Costa Rica's natural landscapes
Hike with your local guide through stunning rugged terrain
Enjoy a 2 hour hike leading to many waterfalls & viewpoints 
Ideal tour to experience and view the wildlife of Tamarindo 
Round-trip hotel transport and lunch included in this tour
Tenorio River Rafting Tour
Tenorio River Rafting is one of those things that can make your Tamarindo trip a memory of a lifetime. A 2.5-hour adventurous ride through the rainforest allows you to see the wildlife of Tamarindo very closely. Even if you're new to rafting, your guide and other crew members of your raft will surely make you comfortable as well as an experienced rafter. During this 12 kilometers rafting tour of the Tenorio River, You can try to spot tropical birds, and you will also get the opportunity to see plenty of other wildlife along the way such as iguanas and monkeys.  
The ideal tour for thrill seekers looking for an action-packed adventure
Experience some of the best whitewater rafting in Costa Rica
You can spot wildlife in a lush, forested scenery while rafting 
Don't forget to take some extra clothes to change after rafting 
Pickup and drop-off, transportation, and a Costa Rican lunch are provided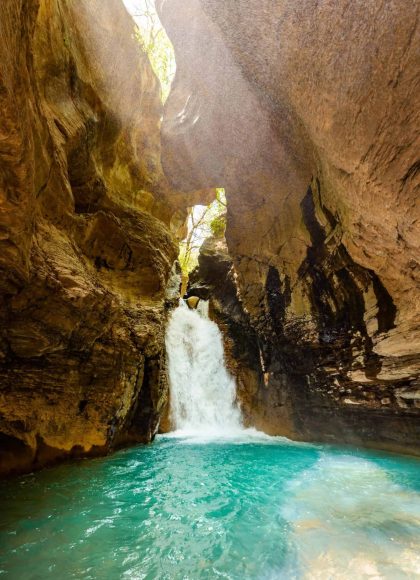 La Leona Waterfall Hiking
If you're looking for an adventurous waterfall hike in Costa Rica, the La Leona waterfall hiking tour is one of the best tours. La Leona is one of the best blue waterfalls in Costa Rica! The tour includes a 2-hour hike alongside the blue waters of Rio Blanco located deep in the canyons of Rincon de la Vieja Volcano. Along the way, you will go through caves, incredible rock formations, and many smaller waterfalls before you get to see La Leona waterfall.
Enjoy hiking and swimming at a less crowded spot in the nature
View wildlife and natural attractions as well as local flora 
Go through caves, incredible rock formations, smaller waterfalls
Ideal tour for travelers looking for the best hiking in Costa Rica 
Costa Rican lunch, waterproof bags included in the tour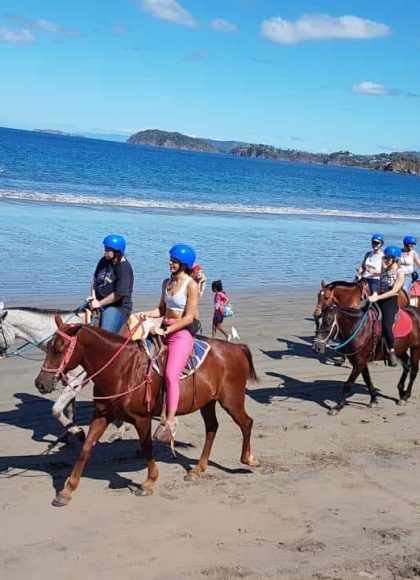 Tamarindo Horseback Riding Tour
If you always had a dream of riding a horse, go horseback riding in Tamarindo. You'll not only enjoy the ride but will also spot howler monkeys, iguanas, magpie blue jay, and parakeets as you amble along rainforest trails or and sometimes you will feel the wind along the beach. Whether you're a beginner or an experienced horse rider you will have a great experience because horses are well-trained and well-mannered, and guides will also be there who will make your ride through the mountains and beaches even more comfortable and joyful.
A ride along jungle trails, mountains, and sandy beaches is just amazing 
Spot howler monkeys, iguanas and parakeets, and more local wildlife 
Outstanding views of the ocean & surroundings mountain trails 
A great tour for complete beginners with all instruction for horseback riding 
An affordable tour on a budget and a great choice for families as well!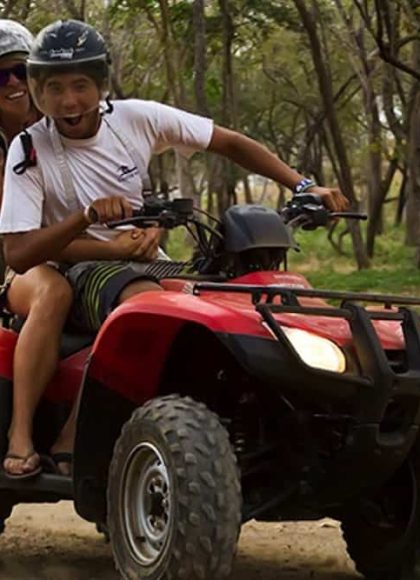 ATV tour is something you must try if you are an adventurer, It's a great opportunity to explore the land, mountains, and beaches, as well as many other things having so much fun on a powerful four-wheeler. There are many routes and including mountainous terrain and dry rainforests as well as beaches where you can spot plenty of wildlife. To drive a powerful ATV you will be provided a learning guide to maneuver your vehicle. Offering an off-road experience with river crossings, mountain views, and stunning tropical scenery, This is one of the best things to do in Tamarindo.
Chance to explore Tamarindo's top beaches, forests, and natural habitat 
You can observe local wildlife driving through the rainforest and mountains. 
No prior experience is required, and safety guidelines and equipment are provided
It offers stunning views of mountains, and Tamarindo bay and coastline
Joyful adventure and fun for 2-3 hours with an easy-to-drive automatic ATV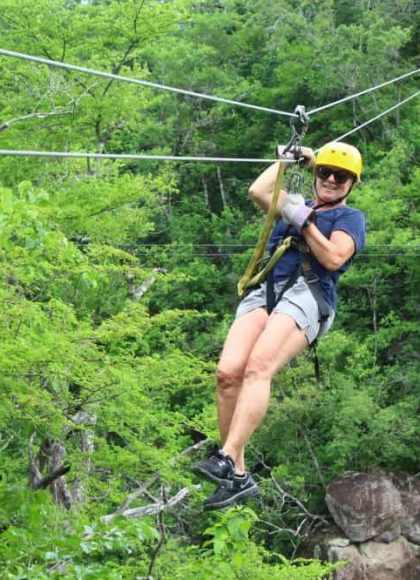 Zipline Tour in Tamarindo
Ziplining is another great thing with so much fun and adventure to try. If you have you ever imagined how does it feel to hang like a monkey, go ziplining and enjoy the safest adventure hanging like a monkey in the treetops of the tropical forest in Costa Rica. It's a quick and thrilling tour that can make your day better. It can also take some fear out of your mind. You get different routes for the same 2-hour rainforest zipline tour and you will be provided a safety guide and tips before you start swinging from tree to tree over steel cables.
Fly over amazing tropical dry forest areas on a series of ziplines
Spot the incredible Tamarindo wildlife in its natural habitat
It's the ideal tour for anyone including families, groups, and children
Stunning views of Tamarindo landscapes, mountains, and forests 
Live entertainment, food and drinks, and safety guidelines are offered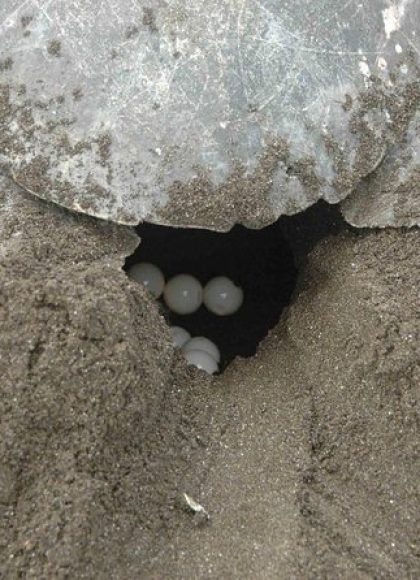 Tamarindo Turtle Nesting Tour
The Tamarindo turtle nesting tour is ideal for you if seeing turtles is on your bucket list. On this half-day tour, you will be spotting olive ridley and green pacific sea turtles laying their eggs, and sometimes even see the babies going out to sea on beaches like Playa Grande and Playa Minas. If you're lucky you get to see other Costa Rican species of turtles such as the leatherback sea turtle, hawksbill sea turtle, green sea turtle, and loggerhead sea turtle.
A very unique tour for those who get bored of crowded beaches 
Chance of seeing baby turtles coming out of the ocean 
Spend a day knowing about sea turtles found in Costa Rica  
Search for olive ridley and leatherback sea turtles, and other Costa Rican turtles 
Great tour with transportation, water, snacks, and flashlights included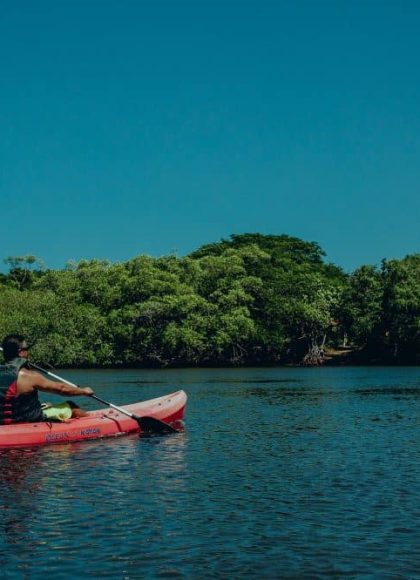 Tamarindo Kayak Estuary Tour
Kayaking is super exciting and adventurous, full of fun and easy activity for everyone. You will find some of the most iconic and crystal water areas to try out kayaking in Tamarindo. Whether you're exploring Tamarindo with your family or you're tripping tamarindo with your friends, a 2.5 hours of kayaking is a super recommendable tour. In this 2-3 hours kayaking you will paddle peacefully through Tamarindo Beach and Playa Grande, in between you enjoy kayaking you're likely to spot crocodiles, tropical birds, and even monkeys. 
You get to see many different bird species and monkeys  
You can learn about Tamarindo wildlife with an expert guide
Kayaking tour away from the beach crowds and city's noise
Enjoy one of the best outdoor activities to keep yourself active 
National park fees, bottled water, and kayaking equipment are given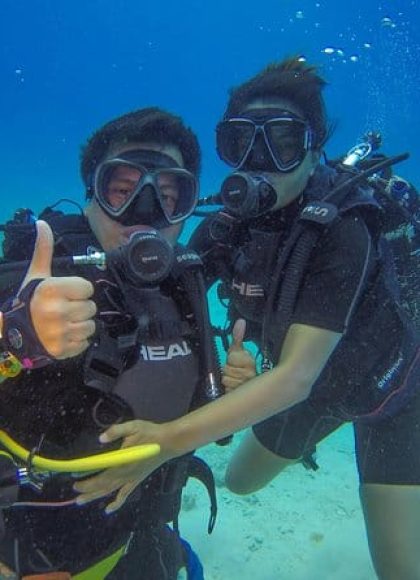 Scuba Diving Catalinas Islands Tour
If Scuba Diving is on your bucket list to try next! Then Tamarindo is definitely one place where you can try it. The marine life which you will encounter on your trip and during your dive sessions is amazing. While having a unique experience of underwater adventure, you will be looking for sharks, rays, manta rays, octopus, and a huge variety of marine fishes. Located not too far off of the famous Playa Grande beach, it is also not uncommon to see several species of turtles swimming about the islands. 
A great chance to see giant manta rays in Catalina Islands 
See life underwater including colorful fishes, turtles, octopuses, and more
Expert Scuba diving instructors will make sure your safety 
All necessary equipment provided, previous diving experience isn't required 
The tour includes transportation, water, and snacks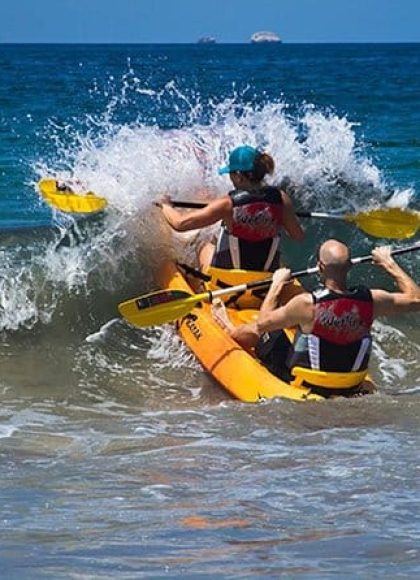 Kayak Snorkel Tour at Captain Island
Combining Snorkeling and Kayaking together at Captain Island this half-day tour from Tamarindo offers an excellent snorkeling adventure. If you're a beginner you can start with a brief kayak lesson, then set off with your guide for the paddle to Captain Island. And You will get to go snorkeling and view octopuses, exotic fish, eels, and spot more marine life such as stingrays. Both double and single kayak is offered, you can choose to ride with the use of snorkeling gear included.
Combining kayaking with snorkeling gives you more adventure 
Ideal for water sports enthusiasts looking for a fun day tour  

Good for beginners, also suitable for all levels of experience

Bottled water, snacks, snorkeling, and kayak gear provided 
Pick up and drop off in Tamarindo/Langosta area is included in the tour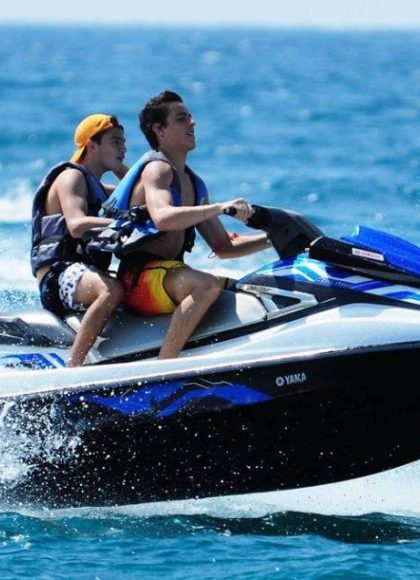 Jet Ski Tour in Tamarindo
Jet Ski tour is another must to do thing in Tamarindo. Jet Skiing with a sightseeing tour offers the best views of the Costa Rican coastline and its beaches. Although, it depends on the season of your time on the Jet Ski tour you get to spot turtles, manta rays, dolphins, whales, and many more. This tour is one of the best options for group travelers, couples, as well as families. 
A unique experience with beautiful views of pristine coastline
Active travelers will enjoy riding Jet Ski and sighting
Before you start, you will be provided instructions and a safety briefing 
Choose to start from either Conchal Beach or Brasilito Beach 
It's a 1-2 hour adventure tour for all levels of experience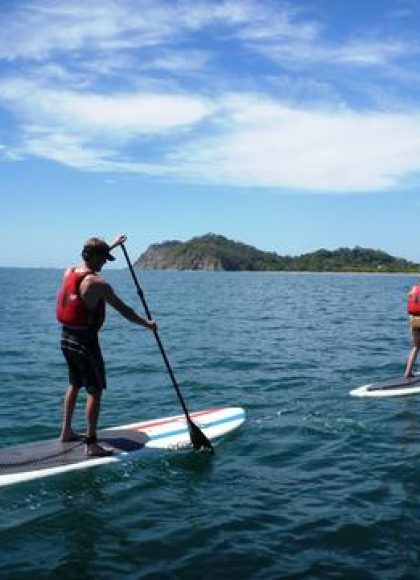 Tamarindo Paddleboard Tour with Snorkeling
If you want to find your own way to a Tamarindo snorkeling spot skipping boats, You can consider this guided stand-up paddleboard tour on Tamarindo Bay. You can just go for it without even thinking about it because no experience is necessary to enjoy this trip. Once you reach Captain Island, just gear up for snorkeling and you will enjoy the wildlife like exotic fish, eels, octopus, and more.
A great outdoor activity with one of the most beautiful views of Tamarindo
You need zero experience to go on this trip 
The guide will be there, and all instruction and equipment are included 
The tour offers a great chance to enjoy the beach and wildlife 
Paddleboard and snorkeling equipment are included in the tour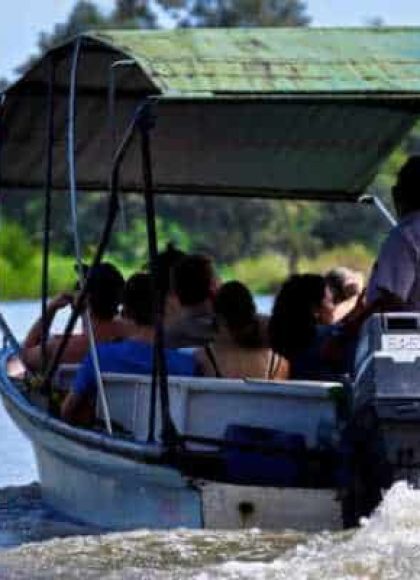 If you are more interested in exploring wildlife and nature, taking an estuary boat tour is one of the best options. This tour takes you through the Las Baulas National Park located just outside the crowded beaches of Tamarindo. On this relaxing boat trip, you can spot monkeys, birds, crocodiles, and more wildlife while you float down the river. The Estuary boat ride is also cheaper and allows you to see wildlife in Tamarindo.
Las Baulas National Park is one of the most beautiful parts of Tamarindo 
Escape the crowds without having to travel far from Tamarindo 
See the diversity of the mangrove forest, and Tamarindo's local  flora & fauna
The Estuary boat tour is a great way to spend a day exploring wildlife & nature 
Round Trip Pick up and Drop off, Park fees, and water bottles included in the tour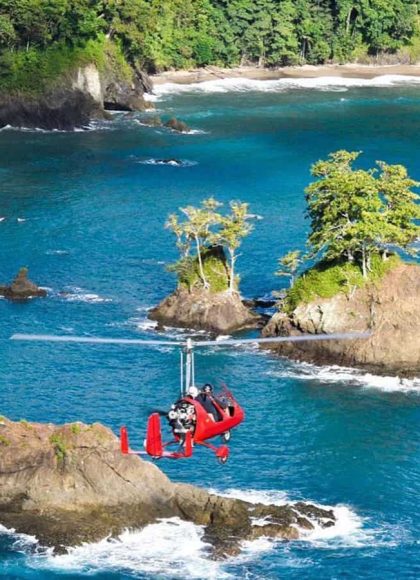 Tamarindo Gyrocopter Tour
Are you looking for a unique flight adventure and experience the beauty of Tamarindo from above? There is a tour available for you, a 20-30 minutes gyrocopter tour lets you enjoy the scenery from a higher point of view over the ocean. You will fly over the beaches and jungle and see incredible wildlife and the beautiful landscape of Costa Rica. For anyone who loves flying and seeing the sights around Tamarindo, this is a must to try. This flight will surely be an unforgettable experience.
Fly through the incredible jungles and the beautiful landscape
Enjoy stunning views of Tamarindo, Flamingo & Playa Grande, and more
Ideal tour for anyone who loves flying and seeing the sights around
Chance to spot wildlife from above and flying so close to the ground
Safety Briefing is given before the flight, Cameras are allowed
Frequently Asked Questions
Find answers to the most asked questions about tours in Tamarindo.