Discover Tamarindo's best dining experiences at top restaurants serving authentic Costa Rican cuisine. Indulge in delicious dishes & drinks while enjoying beach views.
Discover Tamarindo's best dining experiences at top restaurants serving authentic Costa Rican cuisine. Indulge in delicious dishes & drinks while enjoying beach views.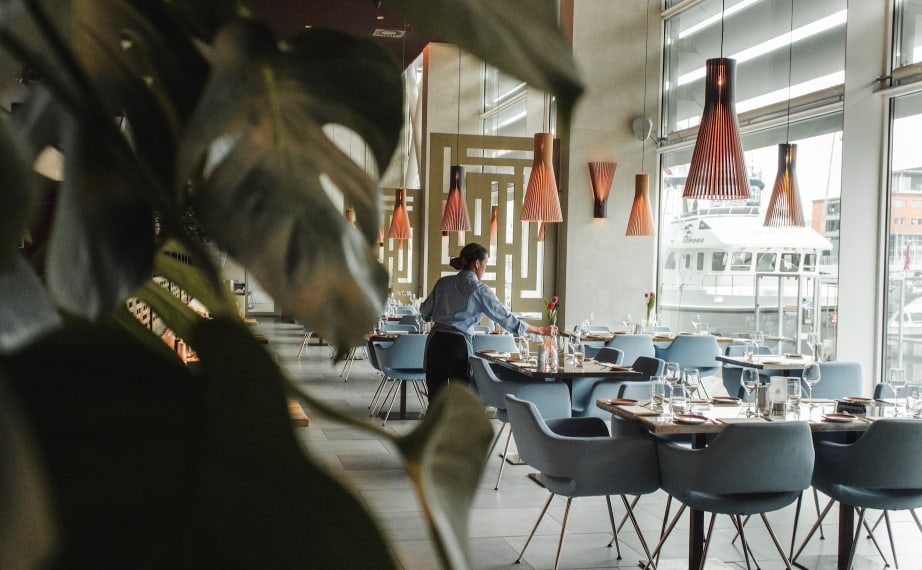 Being one of the most popular destinations in all of Costa Rica, the beach town of Tamarindo offers pretty much everything you can expect. It welcomes hundreds and thousands of visitors from all over the world and provides them with great accommodations and experiences all around the town.

So does Tamarindo also serve excellent and tasty food to its visitors or not? Well, the answer is yes, It serves great and delicious food as well.
Tamarindo is overloaded with hundreds of world-class restaurants and cafes serving traditional Costa Rican dishes as well as some delicious international cuisines. From authentic Italian and deliciously fresh sushi to local seafood, Tamarindo has it all. No matter what time of the year you're visiting Tamarindo, you'll have a number of great Tamarindo restaurants to try out some delicious Costa Rican dishes.
There are countless restaurants, cafes, food trucks, and street food vendors all around the beach town of Tamarindo, Costa Rica. And if you have limited time and you want to eat at only the best restaurants in Tamarindo, finding a great one can be difficult, that's why we are here to help! We've compiled the list of the best places to eat in Tamarindo in this guide. So without further ado, Let's find out the best restaurant for you, Take a look at these local recommendations for the most delicious restaurants in Tamarindo and around.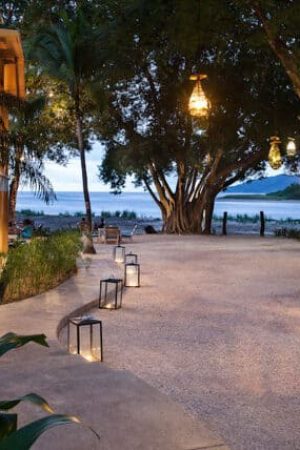 Pangas is one of the most popular restaurants in Tamarindo among locals and visitors. Located on the sands of north Tamarindo beach, it's a very relaxing restaurant with a great outdoor dining experience. With a peaceful dining area right on the beach, its menu offers something for everyone, vegetarians, meat-eaters, and seafood lovers all having their own options.

If you're looking for a restaurant to go to with a group, this is the perfect restaurant. In fact, this one is the restaurant that you need to reserve before you visit, and you can do that by making a reservation over Facebook/online. Pangas Beach Club is located on the main road, Tamarindo, 500m SW from Auto Mercado, Provincia de Guanacaste, Tamarindo.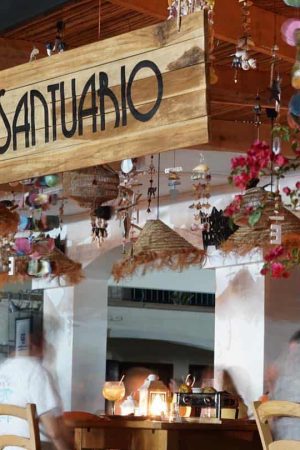 This Italian restaurant (also surviving Costa Rican food) is another great option to kill your hunger. It's a beautiful restaurant with live music and great options for drinks and delicious meals. The staff at El Santuario are friendly and busy but generous and will offer everything you need on time.

They have a great variety of meat, seafood, homemade focaccias, and vegetarian dishes for you if you don't like non-veg at all. If you're looking for a good restaurant in Tamarindo with good food and a good drink, then the menu at El Santuario will not disappoint you. The restaurant is located on Plaza Conchal Office A1, Guanacaste Province, Tamarindo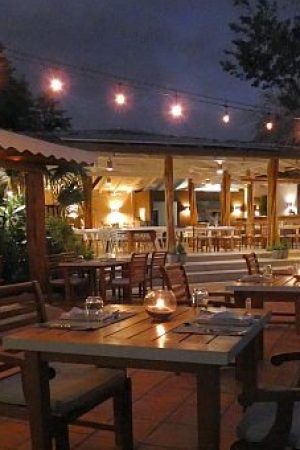 Cala Runa Restaurant located 2 Kilometers south of Tamarindo Airport is another great place to eat. It's the on-site restaurant of Cala Luna Boutique Hotel & Villas. It offers a sustainable dining experience with locally sourced 100% natural ingredients. The menu of Cala Luna offers a variety of food options that are also organic, local, and sustainable.
You get elegant and delicious dishes that combine international cuisine with Costa Rican flavors to deliver a unique experience, It's a one-of-a-kind restaurant that actually serves something like that. But this is also one of the most expensive restaurants, and if you are looking for something unique you can surely try it out, it's worth a visit.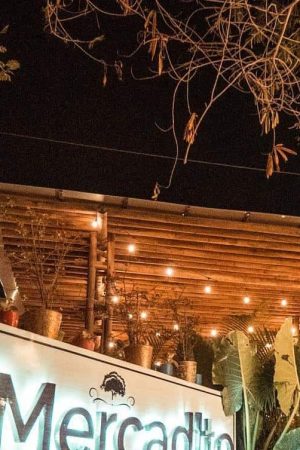 El Mercadito is an outdoor food court that offers a wide range of options for all, It's also considered one of the best to visit with your family. There's no shortage of food choices, the menu offers everything from sushi to arepas, sandwiches and ice cream, and even beers and cocktails, and some other drinks.

Located next To Patagonia Restaurant in Tamarindo, Marcadito is also a budget-friendly restaurant. You will often enjoy live music here and there is a playground that makes the visit enjoyable for your kids. It's open every day from 11 am to 11 pm, and with friendly staff, this open-air food court is one of the best restaurants in Tamarindo.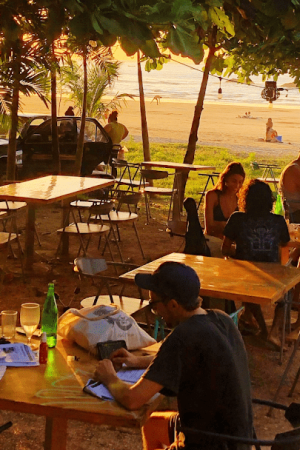 If you're looking for a great place to have coffee with friends or family, head to Pico Bistro — One of the best restaurants in Tamarindo with the best view of the ocean and sunset. You will find the atmosphere at the restaurant and its surrounding really great and relaxing anytime you visit during the day or night becuase it's right on the beach.
With a wide range of different international dishes from orange-poached eggs, to fresh fruit and veggies, this is a beautiful beachside restaurant. It's located on Tamarindo Main Road Guanacaste Santa Cruz and opens between 7 am – 9 pm. You can reserve your table by giving them a call over WhatsApp.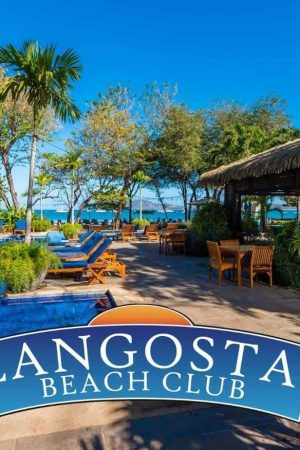 If you want to experience great dining, swimming, surfing, and some unique tours and activities in one place, Langosta Beach Club restaurant should be your first choice. Whether you need something veg and spicy or you are a meat eater, the on-site restaurant at Langosta Beach Club has so many things on the menu for you.

But to experience world-class dining and other activities at Langosta Beach Club you need a one-day membership pass. It's a unique restaurant with its own vibe, but it's also the expensive one. It also has a small playground area, If you're a guest you get to access it which is great for kids. The Day Pass of Langosta Beach Club costs $30 per adult, it is also subject to change depending on availability.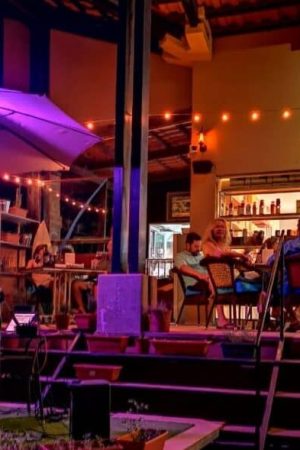 Walter's Fish & Cheeses is another Italian restaurant serving some of the best Italian food to your table. If your search for Italian dishes never ends while looking at the menu, you must pay a visit to this restaurant. At this restaurant, you get to enjoy homemade desserts as well as so many other delicious meals such as super delicious lasagna, pumpkin ravioli, and margarita pizza.

The restaurant menu won't disappoint you if you are in search of cocktails, and wine as well. With quality food made using high-quality ingredients, and some of the best Italian pizza, this is considered one of the best restaurants in Tamarindo. Looking for an authentic Italian restaurant with wonderful service and amazing Italian food, this one is highly recommended.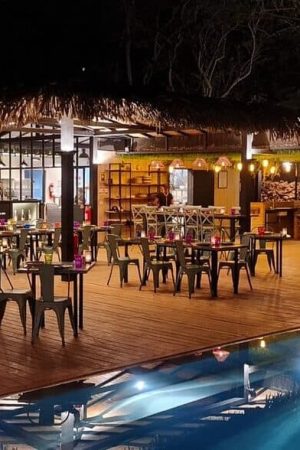 A bit out of town (located 10 minutes drive from the main Tamarindo), Sibou Restaurant gives it its own charm. It offers incredible food including a wide range of dishes. Whether you want a Fish Burger or you're looking for some spicy and delicious sea foods options, the menu at Sibou has everything. There is no shortage of rich international cuisine.
In fact, Sibou Restaurant hands down the best experience in Tamarindo with a swimming pool and a Spa for its guests. The staff is exceptional at Sibou and offers top-notch service. You will find the atmosphere at the location refreshing and relaxing, Sibou is recommended if you are looking for a luxury experience.
These 8 restaurants and cafes in Tamarindo are highly recommended if you are looking to eat something fresh and delicious. You can try out any of them while enjoying your trip to Tamarindo, Costa Rica. But if we have missed your favorite one and didn't mention it in this post, don't worry about our recommendation you can always head to your favorite restaurant and try something different. And if you couldn't find a restaurant of your choice yet, you can always check out some local food courts, restaurants, or cafes on the main street of Tamarindo. But make sure you pick one which offers more options for food and drinks, so you don't have to read the whole menu and search for some veg or non-veg options for hours.
Some of these restaurants in the list can also deliver your favorite dishes/meals to your hotel's door, if you like the one you can save their contact details and request them to deliver your dinner/breakfast to your preferred location. But if you're still confused about where to eat or where to have a coffee? Stop worrying about the restaurants, Tamarindo has hundreds of them, we can't suggest anything rather than heading over to any restaurant and trying the food that Tamarindo has for you on the table.
Frequently Asked Questions
Find answers to the most asked questions below. Or send us a message if you cannot find the answer below.