Secluded beaches and epic surf, thrill, and pleasure, Experience everything Tamarindo has to offer. Go surfing on Tamarindo beaches, and Explore the mesmerizing nature!
An Introduction to Surfing in Tamarindo
Tamarindo is a cool surf town in Costa Rica with all kinds of waves for catching some gnarly rides. People often call it a "party town", but it's so much more than that! Not only can you surf, but you can also go snorkeling, scuba diving, and a bunch of other exciting activities. Visitors from all over the world flock to Tamarindo because of its stunning beaches and amazing surf spots. In fact, it's the best surf destination in the whole country! And the best part? There are top-notch surf spots for surfers of all levels, from beginners to pros. Surfing is the most popular activity in Tamarindo and for good reason. The waves are insane and the sunsets are epic! Whether you're a seasoned surfer or have never set foot on a board, there's a spot for you in Tamarindo. Don't worry if you're a newbie, we've got you covered with a guide to all things Tamarindo surf. From the best beaches to the best time to surf, we've got the info you need to catch some gnarly waves.
Tamarindo is undoubtedly one of the leading surf towns in Costa Rica, it has all sorts of breaks for surfing. Although Tamarindo is often referred to as a "party town" it offers a lot of adventure and fun activities including activities like surfing, snorkeling, scuba diving, and many more to its visitors. Tamarindo is known for its beautiful beaches and surf breaks that attract thousands of young surfers, backpackers, as well as travel groups and families from around the world. Tamarindo has the best surfing structure, in fact, it's the best spot in the country for surfing. In Tamarindo and Guanacaste, You will find some top and world-class surf spots, beautiful beaches, and national parks that make it an ideal destination.
Surfing in Tamarindo for Beginners, Intermediate & Advanced Surfers
Beginner Surfer: In case you're new to surfing and just starting out, You don't have to worry because Tamarindo has got some good surf spots for you. Being new to surfing you must search for beach breaks with a sandy bottom, a beach break with mellow waves and soft landing would be an ideal choice. Keep in mind not to surf in a river mouth break or a beach break that has large waves bigger than 1-2 feet, and try to find a gentle break that is free from any dangerous rocks or reef, and has easy-to-manage waves. If you have no experience in surfing it's always better to approach a surf camp. There are plenty of surf schools and surf camps in Tamarindo, and with their help, surfing lessons, and tips you'll be standing up on your surfboard riding waves in no time.
Intermediate Surfer: If you're an intermediate surfer try to find your ideal spots and beach breaks with soft landings. You have a variety of beach breaks and waves that are perfect for intermediate surfers in Tamarindo. You need to be super consistent with your takeoff, and landings and need to be comfortable on the board while you're challenging large waves. Don't try to ride waves larger than 3-4 feet, you can try occasionally 5ft if you're up to it. You can give yourself a try at a reef break, but avoiding a reef and choosing a beach break (mostly with sand and some reef) will be an ideal choice if you're already familiar with surfing, wave directions, and other things. And that will give you a much more comfortable surf without experiencing turbulence on the surfboard.
Advanced Surfer: If inside you there is an experienced surfer who has been doing it for years, Tamarindo got some really great surf breaks for you that are challenging and great to ride. With plentiful barreling beaches and advanced surfer breaks, Tamarindo is considered a heaven for experienced surfers. You get many surf spots offering big waves in the river mouth breaks, reef breaks, as well wave breaks near the shore. You can choose wave height at any break between chest high to slightly overhead, and even higher that offers the best riding and thrilling landings. Since you are experienced, You know the things you're looking for from your surfing and what kind of waves you're planning to score, and there are many spots for advanced surfers, so go according to your own preferences.
The Best Time of Year for Surfing in Tamarindo
There is always surf in Tamarindo. The best time to go surfing in Tamarindo depends on your level of experience in surfing and what kind of waves you can manage, and want to ride. Most people consider the summer season (holiday season) the best time to go surfing in Tamarindo. During this season water is warm, and waves are consistent and large enough for beginners as well as intermediate surfers. However, during summer months Tamarindo is crowded which simply means more surfers will be in the town and if you are a beginner situations can be a little challenging for you.
So If you're just starting out and want to go surfing in less crowded surf spots, December to April is the best season for surfing in Tamarindo. This season known as dry season also gives the best opportunity to explore the national parks located around Tamarindo. During this season the waves are generally smaller and more manageable, making it a great time for beginners to learn surfing. Intermediate and experienced looking for large waves can visit Tamarindo between May to November. During this season Tamarindo provides more consistent waves and perfect surf conditions. But because you may get some rain during this time you need to keep an eye on whether forecast during your surf sessions. But for experienced surfers looking to spend a day (or a week) riding the waves, this is the best time to go surfing in Tamarindo.
Top Beaches for Surfing in Tamarindo
If you're now ready to surf in large waves or small waves of Tamarindo and looking for the best surfing beaches within Tamarindo Costa Rica, don't worry! we've got you. And we've put together the top 5 surfing beaches in Tamarindo.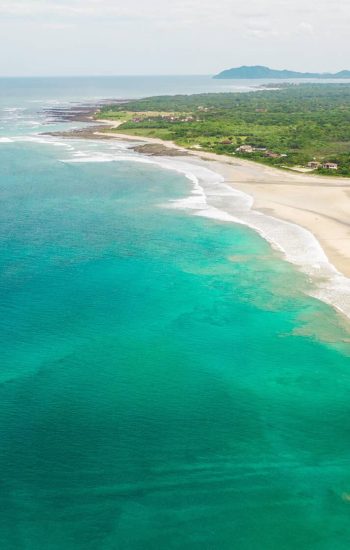 There is no better place to try surfing than the main Tamarindo Beach, It offers some very good surf spots right in front of the surf camps located in Tamarindo. Tamarindo beach is obviously a long beach with plenty of space for swimmers and surfers, and people enjoying other activities. Surfing at Tamarindo beach is easy and great because of its easy and consistent waves, providing many first-time surfers with the opportunity to learn surfing.
At Tamarindo Beach, you will find some of the best surf breaks, and some best waves for all levels of surfers. Because it's the main beach in Tamarindo Town surfing at Tamarindo can be a better choice, You get so many surfing camps, hotels, and restaurants that help you to learn to surf. The waves are consistent almost 365 days a year, and perfect waves, rowdy nightclubs, and high-quality restaurants make Tamarindo one of the most impressive surfing beaches in Tamarindo as well as in all of Central America.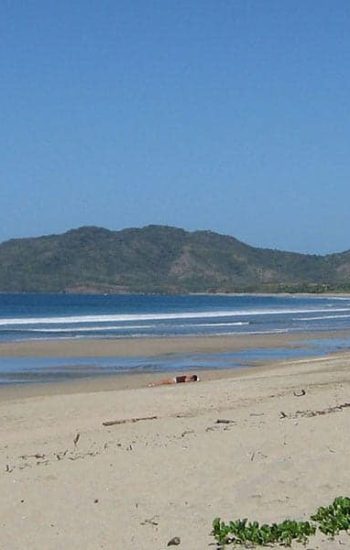 Playa Grande Playa Grande is probably one of the best surfing beaches in Tamarindo for beginners as well as experienced surfers with ideal wave height starting with the stomach-high range at the main peak, but the very best size is from chest high to slightly overhead. Sometimes while you surf you will see the waves getting bigger than about 7 feet on the face, and there will be more close-outs to deal with, but if you're patient and a strong surfer, you may enjoy the adventure of heights in ocean waves. Playa Grande has high-quality beach breaks and it's known to have powerful waves, it's recommended to surf here only if you're a strong swimmer.
Playa Grande is known for the consistency of its waves all year round and it's guaranteed incredible surfing, while also being able to check out a few other things around. If you're looking for great a spot to enjoy surfing, go surfing in Playa Grande, because it will give you the high-quality waves that you are looking for, and lots of fun. Another thing that makes playa grande beach a great spot is it's less crowded than others and sometimes you get to see some turtles walking out of the ocean.
Playa Langosta — located 1km south of Tamarindo (a short drive) is another great spot for surfing. Langosta is the perfect spot for those who are after some big and high-quality waves that offer both left and right-hand breaks. You will find waves always bigger than Tamarindo and much more challenging as well. Playa Langosta has several different breaks to choose from including Sapo, Racetracks, The River Mouth, and The Beach Break.
The Beach Break is best for beginners, while The River Mouth break is very unpredictable and sometimes challenging, best for experienced surfers. With the combination of the river and the reef with some radical waves all year round, Langosta is probably one of the best beaches in Tamarindo to try surfing. If you choose to surf The River Mouth at Langosta be careful about crocodiles around here, sometimes they come out from the river to the ocean. Playa Langosta is not crowded on weekdays but during the weekends you will see the beach crowded with surfers but you will find enough space and waves for your surf experience.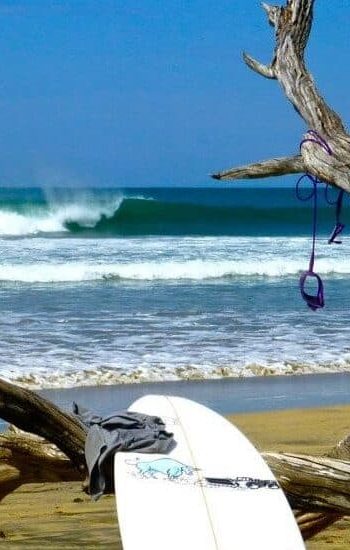 Playa Avellanas known as "Little Hawaii" is one of the best surfing beaches close to Tamarindo. Avellanas is located at a distance of 19 kilometers and takes about 40 minutes to reach. With seven different points for surfing, Playa Avellanas is the ideal surf spot for expert surfers as well as those just starting out aka beginners. If you are tired of surfing on a crowded beach with hundreds of other surfers, head over to this beach for a great surfing experience.
At Playa Avellanas you will get a chance to surf with locals in the most consistent waves in the country. The biggest wave here is called "Little Hawai" it's near the river mouth and has a left and right-hand break that can top 12 feet sometimes during good days. And there are also many different beach breaks during mid or high tide where beginners can challenge the waves of their choice while learning to surf better. The beach doesn't see crowds as there is almost no tourism in the town. No matter whether you are an experienced surfer to just starting out, and looking for the power, the height, the speed to challenge and score, Playa Avellanas is exactly what you're looking for.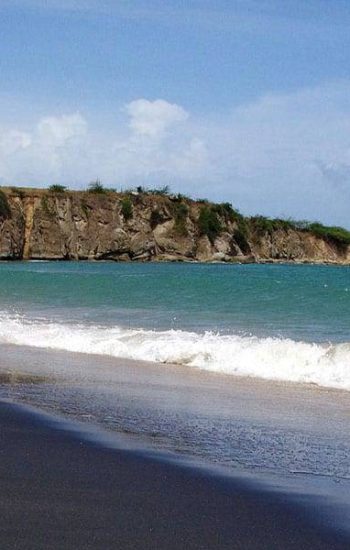 Playa Negra is worth visiting if you're looking for top surfing beaches within Tamarindo and around. The beach has outstanding waves as well as a black-sand bottom and of course a right-hand surf break which is considered one of the best in Costa Rica. There are many surfing beaches all over Costa Rica but Playa Negra is considered the best of the best and suitable for intermediate to advanced-level surfers. Beginners can also try if they have someone experienced in guiding them.
Playa Negra beach is located in the Guanacaste region, 45 minutes south of the popular tourist attraction and the beach town of Tamarindo. It's one of a few reef breaks that attracts many surfers from different parts of the world. But it's most famous because it was featured in the movie Endless Summer 2. Due to its outstanding and magical wave, powerful break, and well-defined channel, it's a perfect spot for experienced surfers. If you are after a  magical surfing experience, try surfing at Playa Negra beach the best wave in Costa Rica.
Frequently Asked Questions