If you're planning a vacation in Tamarindo, chances are you are flying to Liberia Airport – one of four international airports connecting Costa Rica to the world. And If you're looking for a detailed guide on Liberia International Airport (LIR), its location, services, and facilities then search no further! This guide will surely help you get to know the airport and the things you can do in Guanacaste and Tamarindo.
Liberia International Airport officially known as Guanacaste Airport or Daniel Oduber Quirós International Airport is the primary International airport that serves western Costa Rica. It's located 11 kilometers (7 mi) west-southwest of the city of Liberia in Guanacaste Province. Flying into this airport is the easiest way to reach destinations like Playa Flamingo, Playa Hermosa, Samara, Tamarindo, and many more. If you are planning to visit Tamarindo, Liberia Airport should be your first choice as an International traveler. There are four international airports in Costa Rica with active international operations, And Liberia Airport is the second most important airport in the country.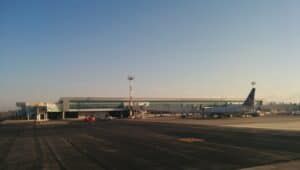 Liberia Airport or Guanacaste Airport (LIR) has good connectivity with 25+ destinations across four countries with 15+ international airlines. It is also connected to Tamarindo, Samara, and Punta Islita with domestic flights. Liberia Airport has non-stop passenger flights scheduled to many destinations, and the most frequent connections are between the US and Canada, and Europe and South America as well. 
The airport features a single terminal well-equipped with modern facilities serving both domestic and international passengers under one roof.  Because the airport is small (although it's one of the largest in Costa Rica) it only has 8 gates for international flights. Although it's something technical to know, Liberia Airport has a single runway that handles all the aircraft including Boeing 747-400, 737-800, 757-200 and Airbus A340-600, and others. 
Daniel Oduber Quirós International Airport was first opened in 1995 after it was re-inaugurated as an international airport.  The airport is known by many names, and it was named after the former Costa Rican president Daniel Oduber in honor of his work for the province of Guanacaste. Today most people call it "Liberia Airport" but the airport has changed its name again in 2021 to "Guanacaste Airport" for better branding. Pristine beaches, national parks, and luxury resorts near the airport are making it the best airport to fly into Costa Rica. 
Airlines Flying to Liberia Airport
There are over 15 international airlines that fly directly to Liberia Airport, Costa Rica, And we have listed some major airlines among all the airlines here with their destinations and routes, and cities.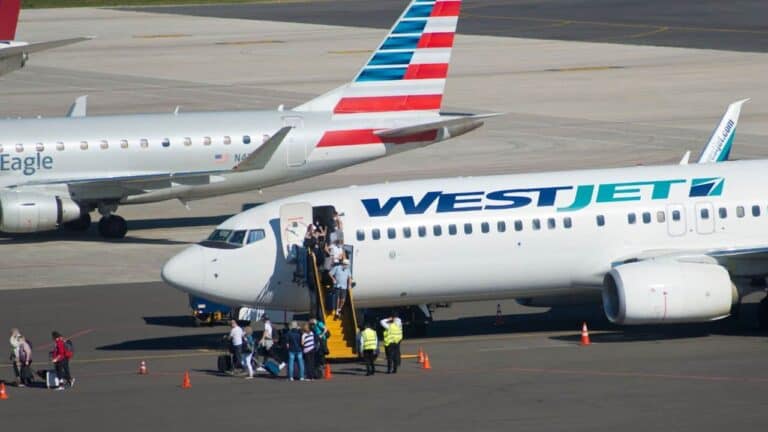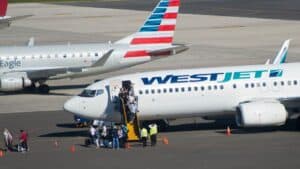 Air Canada: Toronto–Pearson
Alaska Airlines: Los Angeles
American Airlines: Austin, Charlotte, Chicago–O'Hare, Dallas/Fort Worth, Miami
Delta Air Lines: Atlanta
JetBlue: Los Angeles, New York–JFK
Southwest Airlines: Denver, Houston–Hobby
Sunwing Airlines: Toronto–Pearson
TUI Airways: London–Gatwick
United Airlines: Houston–Intercontinental
Sansa Airlines is the main domestic airline that flies to places like Nosara, Quepos, San José–Juan Santamaría, Tamarindo, Tambor, and others. And there are some other airlines that operate seasonal flights and take passengers from and to the airport. Seasonal flights run between the airport and many destinations including Calgary, Boston, Amsterdam, Baltimore, San Francisco, and many more.  United Airlines, American Airlines, Delta, and Air Canada are the top carriers that fly the most passengers. 
Liberia Airport Code & Other Quick Details
Name: Guanacaste Airport, Daniel Oduber Quirós International Airport (Spanish: Aeropuerto Internacional Daniel Oduber Quirós)
Airport Code: LIR 
Location: Blvd. Aeropuerto S/N, Provincia de Guanacaste, Liberia, Costa Rica
Operator: Coriport S.A (Airport owned by Gov of Costa Rica)
Contact: +1-888-202-8568, [email protected]
More info: Visit the official website of Liberia Airport
Note: All these details are taken from the website of Liberia Airport and can be used for inquiry purposes. In case of any service inquiry or support you need while you are at the airport or need help after reaching the destination you can use these details to get connected with the airport operations and management team.
How to Get from Liberia Airport (LIR) to Tamarindo?
There are many ways to get from Liberia Airport to Tamarindo. The distance between the airport and Tamarindo is around 67 km and it takes about 2 hours to travel between both points. Whether you want to use cheaper public transportation or you want luxurious comfort by taking private rides, You are your own boss to choose any method of transportation to Tamarindo. Here are the following available options. 
Bus: Public bus is the cheapest and easiest option to get to Tamarindo. From the bus stop near Liberia Airport, you can take a bus to Tamarindo, San Jose, and other destinations. It takes around 2 hours to reach Tamarindo by bus and costs only $3-5 per person.
Airport Shuttle: You can book a private shuttle from Guanacaste Airport to Tamarindo. Airport shuttles will meet you outside the airport when you land and take you directly to your destination. For your comfort, you get both options of private shuttles as well as shared shuttles which cost a little less. But the Shulte is an expensive option, it can cost you $100 for the private shuttle, and $30 for a shared one.
Taxi: A taxi from Liberia Airport to Tamarindo takes around 1 hour and 30 minutes and charges $75 – 95 per ride.
Hotel Transfer & Private Cars: We recommend booking a transfer between the airport and Maitri. This option is excellent, especially with no public transportation available during late nights and early mornings. We may arrange this option for you, the price will be around 100$ for a private shuttle or 30$/person. If you want the most convenience, and want your car ready and waiting just outside the airport after you land, this option is for you and we can help you get a much smoother ride to Tamarindo.  
Car Rentals: If you have a valid driving license and you don't want to be bounded by anything during your trip, You can rent a car at the airport and drive yourself to Tamarindo and the attractions nearby. If you can't do that, you can try Uber or any other car rental service.
What to Expect at Liberia International Airport, Costa Rica?
Daniel Oduber Quirós International Airport is a very compact and small airport. But it's well-equipped with the modern facilities that you get at any other airport. Being one of the busiest airports in Costa Rica it serves around 1 million passengers every year.  It takes good care of its passengers providing them with great accommodation including lounge, hotels, food and shopping and so many things. You can expect everything from dining to free wifi, shopping to currency exchange, everything is available to make your trip easy and memorable.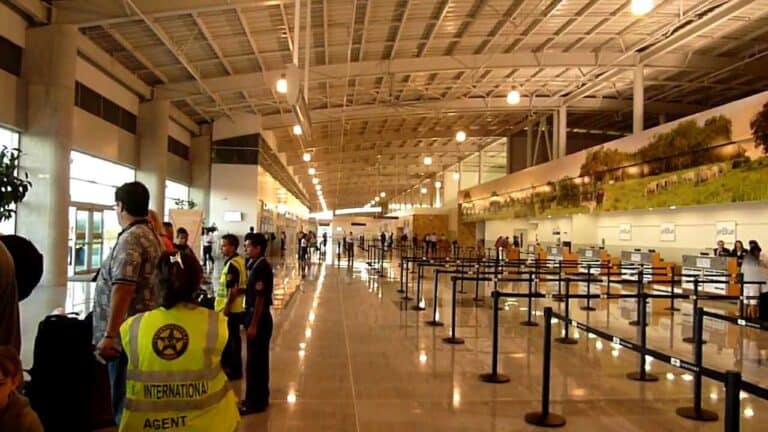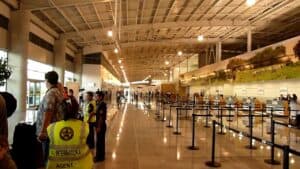 There are a few restaurants and cafes inside Liberia Airport that serve a variety of cuisines. After you pass the security check you will find Britt Cafe souvenir shops, a jewelry store, and an art gallery. There is a duty-free store inside the terminal where you can get something for your loved ones when returning from the trip to Tamarindo. The currency exchange is located after the immigration, there are two currency exchange counters, one for locals and one for tourists on arrival. 
Guanacaste Airport also offers other important facilities you need as an average traveler including free Wifi, lost & found support, disabled access, parking, and other things. A very limited waiting area is available, but for added comfort, while you wait at the Liberia Airport, there is an airport lounge where you can stay if you have a long layover. You get many help desks inside the terminal at different points, on departure and arrival there are counters of all airlines, if you need help with anything, you can ask them they are available and always ready to help.  Inside the terminal, you will find public toilets, and luggage trolleys, ATMs at several locations.
With everything offered this is one of the best airports in Costa Rica, We recommend arriving at least 2 hours early for an international flight to go through luggage check-in, and security checks, and enjoy everything the airport has to offer to travelers. 
Best Places to Stay near Liberia Airport (Guanacaste Airport)?
There are many hotels close to the airport but you may need to pay a very higher rate for the booking. And that's why we suggest booking your hotel in advance and heading to the hotel directly after you land. This would probably save you some money because most hotels near the airport are expensive. 
But If you couldn't manage to get a car rental booked before landing or you've just landed and it's nighttime or you just want to stay in Liberia before heading to Tamarindo, Whatever the reason, you can book a hotel close to the airport for a comfortable stay and enough for one night. Considering your stay we have mentioned some hotels in this airport guide. You can choose any of the following hotels near Liberia Airport 
Hilton Garden Inn is the closest hotel to the airport, it's located just opposite Guanacaste Airport and features an international restaurant, outdoor pool, free WiFi, and modern rooms. From the hotel, a free shuttle is available to the airport on request. The Garden Restaurant and Bar offers a full menu for lunch and dinner. There are a couple of tourist places such as Africa Mia Wildlife Park and Rincón de la Vieja Volcano National Park. 
Although the Hilton Garden Inn is expensive, it's close and offers easy access to the airport. Alternatively, you can also find some cheaper hotels but you will be staying at least 5km away from the airport.  Hotel Santa Ana Liberia Airport is another great option which is located 5.7 km away. Because it's far away from the airport it is an affordable option, but you need a uber ride to reach the hotel. You can also find some other hotels yourself by searching nearby hotels and choosing one according to your budget and preference. Still, we will suggest trying to book a hotel in Tamarindo and heading to your ideal destination just after your landing at Guanacaste Airport. 
Frequently Asked Questions!

Q. What airport do you fly into to go to Tamarindo Costa Rica? 
You can fly to both Guanacaste Airport (LIR) in Liberia and Juan Santamaría International Airport (SJO) in San Jose. But you will be much closer to Tamarindo if you choose Liberia Airport, You can drive to Tamarindo or get a car rental to your hotel.
Q. How far is Tamarindo from Liberia Airport? 
The distance between the airport and Tamarindo is around 67 kilometers, it takes about 2 hours to travel. There are many ways of getting to Tamarindo, different transportation options are available. You can either travel in public buses or get yourself a private shuttle from the airport.
Q. How much is a taxi from Liberia Airport to Tamarindo?
A taxi from Guanacaste Airport, Liberia to Tamarindo which takes around 1 hour and 30 minutes charges $75 – $100 per ride. It's cheaper than a private car rental but much more expensive than a bus or shared shuttle.
Q. Which airlines fly directly to Liberia Airport Costa Rica?
There are 15+ international airlines including American Airlines, United, JetBlue, Delta, Alaska Airlines, Air Canada, KLM, Southwest Airlines, and a few more airlines all fly directly to Daniel Oduber Quirós International Airport.
Q. Is it better to fly into San Jose or Liberia Costa Rica?
Both Airports are modern and well-equipped with all facilities you need. It's up to you, you can pick one that works for you. If you are visiting places such as Paquera, Tambor, Montezuma, or Santa Teresa, choose (SJO) in San Jose for easy access. But fly into Liberia Airport if you want to visit Tamarindo, Guanacaste, and Liberia.