Tamarindo at a glance: 
Tamarindo has incredible and dreamy beaches, rainforests, and a lot of wildlife living in their natural habitat 

Tamarindo is a rich culture with amazing, friendly, hospitable, and generous people you are going to love to live with

One of the best towns in Guanacaste Province in northwestern Costa Rica, it's an ideal choice for remote workers, digital nomads, families

Easy transportation with public buses, and private shuttles to nearby towns and cities, and you can use bikes, and motorbikes as personal transportation.

An excellent selection of schools for your children to learn and become future-ready with the best-in-class education.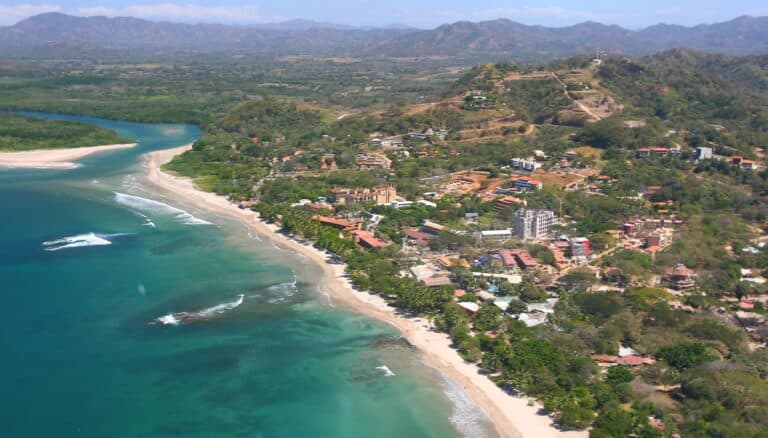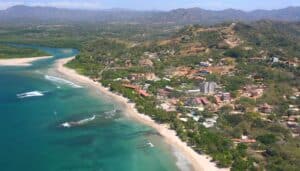 If you are dreaming about living within walking distance of pristine and sandy beaches, Tamarindo, Costa Rica could be the best choice to make your dream come true. This small beach town is one of the best places to live in Costa Rica, Just around 8-9 thousand people live in Tamarindo, making it one of the least crowded places in Central America. But because it's also a major tourist hub in Costa Rica, sometimes during the holiday season it gets too crowded. Tamarindo is the largest developed beach town in Guanacaste, and its touristry but this means it also opens the doors to many business opportunities for you. 
Tamarindo is a place close to nature with intriguing wildlife and an affordable cost of living, beautiful and exotic beaches, rich and diverse culture, and you will indeed feel proud calling tamarindo home. Tamarindo is also one of Costa Rica's best places for retirees relocating from countries like the U.S, Columbia, and others. In the last few decades, Tamarindo has become a popular place to retire overseas. 
Are you confused about where to live in Costa Rica? let's get to know everything about Tamarindo and what life in Tamarindo is like. 
Life in Tamarindo is Simple
If you are tired of living in a crowded city and not enjoying city life anymore, Tamarindo is a great place to live which is surely going to make your life much simpler. Tamarindo's life is simpler yet healthier and happier with a lot of outdoor activities and healthy food. You get to walk everywhere in the town which even helps you stay fit without putting in the extra effort.  You can expect to start your day with a morning walk around the place you live and in the same way you can end with a short evening walk. There are a lot of beaches that are great to spend some quality time (me time) walking and listing to your favorite music and podcasts.
To challenge yourself with adventure and you can do outdoor activities such as surfing, swimming, kayaking, hiking, or simply going to beaches on weekends and in your free time. There are not many but several general stores, hardware stores, and clothing shops where you can get your daily-use accessories and products. You can have plenty of amenities and almost everything you need to make your life productive and simple. There are over 150 restaurants serving veg, non-veg, Costa Rican, and international food to your plate. 
Language & Culture of Tamarindo
The official language of Tamarindo is of course, Spanish because Costa Rica is a Spanish-speaking country. However, because of the various demographic groups living in Tamarindo English is widely spoken in Tamarindo as well as all of Costa Rica. You will find so many North Americans living here, and because of that all the locals somewhere know English. Most schools and colleges do offer English-based dual language programs with Spanish. So whether you speak English or Spanish, language isn't a problem but once you are in Tamarindo it's better to learn some Spanish as well.
Tamarindo's culture is diverse, rich, and stable compared to many other places in Central America. Costa Ricans take pride in their culture, they are generous, friendly, and diverse people who enjoy sharing their culture and social activities with people of other countries, races, and religions. Roman Catholicism is the most practiced religion in the country, but you get the freedom to practice your faith in Tamarindo and all of Costa Rica.
Transportation in Tamarindo
With several methods of transportation Tamarindo is easy to move around. Tamarindo's main road runs parallel to the beach for 1.5 miles (2.5 km.) until it ends in a small cul de sac. Along driving through the main road of Tamarindo you will see pharmacies, boutiques, restaurants, and hotels on both sides.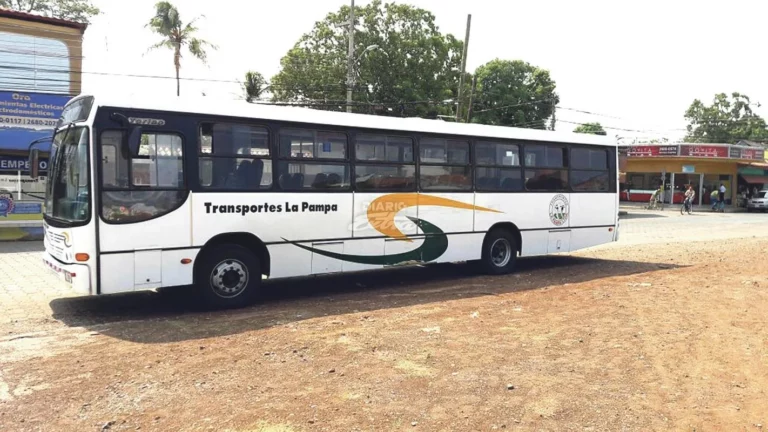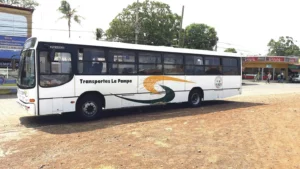 Tamarindo's road infrastructure is good, You get both public buses and private shuttle transfers directly from the town to San Jose and Liberia Airport. The closest airport is Liberia, which is one of the two main international airports of Costa Rica and it is just over 1 hour away from the town. While driving into Tamarindo, you will find streets busy and full of surfers heading to the beach and curious travelers checking out the many souvenir shops.
You can easily access all of the town on foot but if it is something hard for you these are transportation methods to use in Tamarindo:
Taxi 
You can get a taxi to move around the town, Tamarindo's taxi stand is located in front of Plaza Conchal. You can either pay a fixed charge based on meters or a fixed rate after negotiating with the driver himself. Check the one-way taxi fares from Tamarindo to nearby towns and places here:
Tamarindo to Langosta: $3-$6
Tamarindo to Flamingo: $25-$30
Tamarindo to Brasilito/Conchal: $25
Tamarindo to Playa Grande: $15-$25
Tamarindo to Liberia Airport: $75-$95
Public Bus & Shuttle

Public buses are the cheapest and best way to move around Tamarindo and nearby destinations. There are several buses operated by different bus lines and each bus has a different route and makes frequent stops along the way. Here is more about all buses and their routes operated by three different companies 
Tamarindo – Santa Cruz, Traslapa: Buses depart at 3:30 a.m.; 5:30 a.m, and 12:30 p.m from Tamarindo, and from Santa Cruz buses depart at 12:30 p.m. and 9:00 p.m. It costs $3 to travel between both destinations. 
Tamarindo – San Jose, Alfaro: Bus departure from Tamarindo starts at 3:30 a.m, and ends at 12:30 p.m with the last bus leaving Tamarindo. Buses depart at 11:30 a.m. and 3:30 p.m from San Jose. This bus route takes you to Tamarindo and San Jose via Liberia, it costs $10 with a total of six hours of the long journey stopping at many points. 
Tamarindo – Liberia, La Pampa: Liberia is the most frequent route with so many buses departing between 3:30 a.m and 6:30 p.m. The trip duration from Tamarindo to Liberia is around 2.5 hours and it costs about $2-4 per ride.
Note: Not all buses will take you to places around Tamarindo some of the buses that run through Flamingo and Tamarindo have different timing. The one that leaves at 11:10 takes a different route and goes through Flamingo, Brasilito, Matapalo, and then Tamarindo. You may ask locals to know more about public bus service and their timing.
Car Rentals
If you're not up for public transport and don't have your own vehicle, car rental is another great option. If you're not planning to live in Tamrindo for years, and especially for digital nomads living in the city a car rental is an ideal choice to move around. But if you are looking to spend a few years in Tamarindo public transportation is just as good as you want. But in order to have the most convenience you may use your own vehicle. Car rental also works for families looking to spend a few months in Tamarindo. 
You must have a valid driving license from your home country, an international driving license isn't required to rent a car. Some companies offering car rental include Alamo, Budget, Economy, Eurocar, Hertz, Mapache, and others. On average a rental car in Tamarindo costs $30-$100+ per day. But prices differ between operators and on different factors such as duration, vehicle size and type, and many things.
Entertainment in Tamarindo
Tamarindo is also known for its vibrant nightlife and travelers always praise the town for that. Yes, rumors about Tamarindo being a party town are somehow accurate, because life in Tamarindo continues after the sun goes down. You will find many local bars and dance discos all around the town. Tamarindo offers much more when it comes to nightlife and entertainment.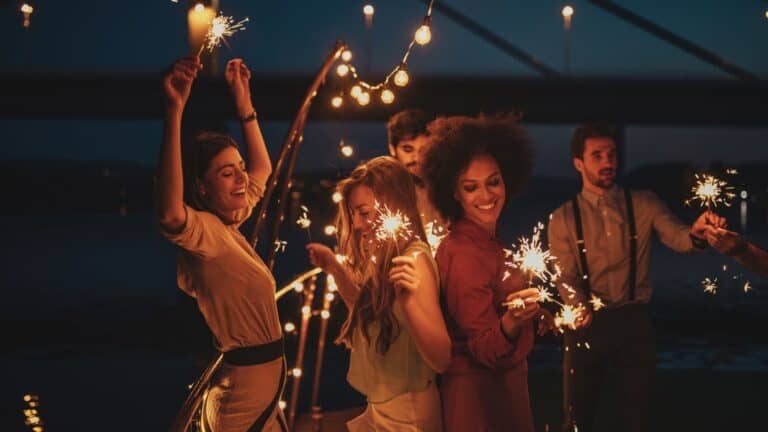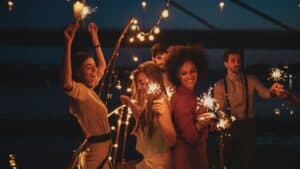 If nightclubs aren't appealing to you then there is nothing to worry about there are other entertainment options you get in Tamarindo as well. You can go for other activities such as a dinner with your loved ones at great restaurants in Tamarindo with live music, you can join a live music event held in the town, or you can go to movie theaters to watch a movie. There are many festivals and events that take place in the town, you can attend them to enjoy your time in Tamarindo.
Healthcare in Tamarindo
With lots of great outdoor activities including surfing, snorkeling, kayaking, and hiking, and lots of great and safe-to-eat food Tamarindo is considered a blue zone. The climate of Tamarindo is one of the warmest and driest climates in Costa Rica. Located only 9 degrees above the equator and sea level, Tamarindo gets lots of direct sunlight and enjoys warm ocean currents. Overall, Tamarindo's calm and humid weather can lead you to a healthy lifestyle.
Coming to the healthcare system of Tamarindo, The town is also known for its best healthcare system of any beach town on the northwestern coast of Costa Rica. In fact, Costa Rica's healthcare system is frequently cited as one of the best in the world. On a regular basis, the clinics have visiting specialists for such things as skin disorders, psychology, etc. Regional medical clinics are located in Liberia and Nicoya, which is just ours away from Tamarindo, and most major hospitals are in the capital city of San Jose. But it's recommended not to eat and drink without safety assurance if you're on a trip. 
Safety in Tamarindo 
If you are wondering about safety in Tamarindo then the answer is yes, it's safe. Unlike any other town in Guanacaste Province Tamarindo has the reputation for being one of the safest places in Costa Rica. Because the town is active all day and night and it ensures your safety. But obviously like everywhere in the world, some robberies take place in the town during the holiday season as well as during normal days, in case you experience anything like that you can always contact the local police and authorities.
The crime is very low, the town is safe and most crimes are harmless but because it's active and full of different people from all around the world you must follow some safety guidelines. You may sometimes hear of car break-ins and pick-pocketing, so don't forget to take someone with you whenever you go for a walk, avoid walking in remote places alone, and lock your doors during the night properly for better safety. 
Education in Tamarindo, Top 5 Schools
If you moving to Tamarindo, Costa Rica with your family you must be wondering about the education of your kids and whether the education system will meet your needs or not, don't worry the good news is the education system in Costa Rica is one of the best in all Latin American countries with a literacy of 98 percent. Education is the top priority in Tamarindo and all around Costa Rica for locals as well as international families moving to the town. With high-quality education, Tamarindo and the surrounding Guanacaste area have a wide variety of private schools available for long-term visitors, expats, and international families moving to the town.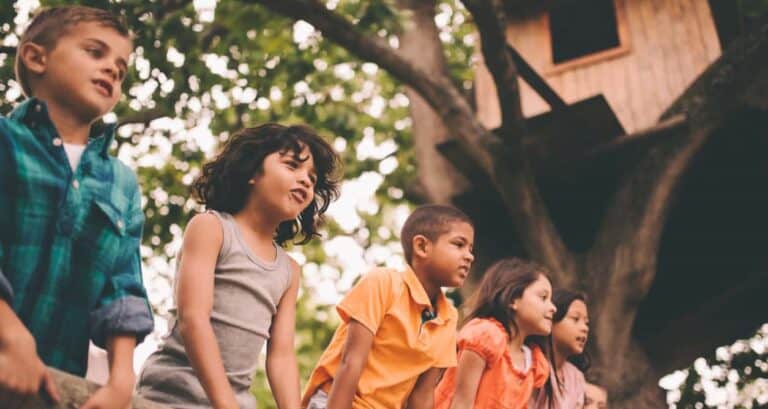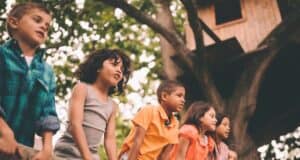 Tamarindo schools provide quality education helping the next generation become future-ready with advanced learning and skills. We've put together a list of some of the best international schools around Tamarindo, Langosta, Flamingo, and the rest of the area which might be a fit for your children. 
Ali's Treehouse (ages 3-5) This bilingual preschool offers an academic-rich environment and aims to educate children socially, emotionally, and cognitively. It provides a safe, happy, and developmentally appropriate environment for kids under 3-5 years. This beachfront school is best for kindergarten classes and early-stage education.   
CRIA (ages 6-18). The Costa Rica International Academy is US and MEP-accredited and offers English-based dual language programs with Spanish. The school in Guanacaste is one of the best for primary students (Grades 1-2). It also offers a strong academic focus and college preparatory program for pre-K through 12th-grade students from 22+ different countries. It's located at Brasilito and has transportation/school buses to Tamarindo and the surrounding area. 
La Paz (ages 8-11, 11-13). Combining local and international students, this school focuses on developing the student's sense of place in the world through authentic learning experiences. La Paz school's upper primary programs (Grades 3-5) are great for children under 8-11, and Middle school programs (Grades 6-8) make it ideal for student age groups of 11-13. 
EDUCARTE (ages 9-13, 14-18). This bilingual (English and Spanish) school focuses on diversity, It offers a unique academic environment that supports diverse backgrounds, cultures, languages, and interests. The school is ideal for primary and secondary students.  The school focuses on innovative teaching methods that emphasize fundamental values, In addition to core competencies, their primary and high school curriculums extend to a strong English (literature, reading, conversation, and writing) program.
TIDE Academy (Ages 14-18). TIDE (Total Immersion Through Dynamic Learning) Academy is another great school that is more flexible, especially for students under the age of 14-18 who are in their 10th-12th grade. The school is well-known in Costa Rica and provides individualized education for each student from preschool through 12th grade. If you are looking for a school with a little more schedule flexibility, TIDE is the best school you can find in Tamarindo.
Remote Work/Business Potential in Tamarindo
Tamarindo, Costa Rica is an international destination on the rise for world adventurers, expats, digital nomads, freelancers, and remote workers looking to grow their careers while promoting sustainability and looking after nature. The affordability of living, natural beauty, healthy lifestyle, easy transportation, safe environment, and hospitable locals make it an ideal place to live, work, and grow your career without being bound to a toxic office culture. In other words, Tamarindo is considered a haven for remote workers.
And even being a hot spot and an active tourist destination, Tamarindo has lots of business opportunities as well. There is endless potential to market yourself and offer your services to local businesses in Tamarindo as well as in cities like Liberia, San Jose, and other places. With many new and growing businesses everywhere in Costa Rica, there is always a demand for services and specialized skills. And if you are an entrepreneur with some great ideas you can get into the business in many areas including transportation, logistics, hospitality, and food & beverage. Some of the best businesses for individuals in Tamarindo might be opening a yoga studio, a training center, a restaurant, or just freelancing to make a living.
Pros And Cons of Living in Tamarindo
Tamarindo isn't busy and it is a peaceful small town, and of course, with so many things you get here Tamarindo has so many benefits for your work and life as well, and it offers a lot compared to any other towns in the country. But the pros and cons of living in Tamarindo can be described as "two sides of a coin" and yes Tamarindo also has some downsides. So before you decide whether the beach of the town of Tamarindo is a great place to live or not, you must know a few things about the town and life in Tamarindo. See below the pros and cons you should be aware of before you decide to live in Tamarindo.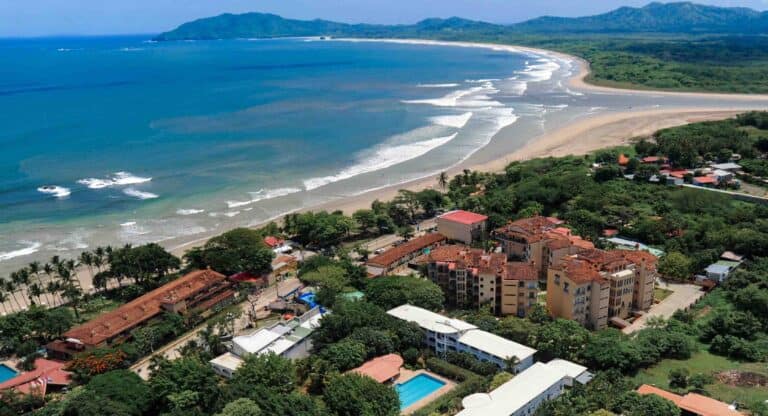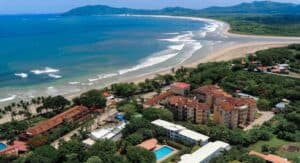 Why you should live in Tamarindo?
Tamarindo is beautiful, it has lovely beaches with warm waters to swim, cool mountains, and waterfalls to hike, Tamarindo has something for every adventure seeker.

Multicultural with modern and traditional festivals and events, easy to get engaged with people and their language, English is widely spoken.  

Good environment, people living here are from different countries, races, and religions and they respect each other. It's safe, the crime rate is also low everywhere. 

Healthy and productive lifestyle, the weather is mostly pleasant, and you have a lot of outdoor activities to try and stay fit. 

It's affordable to live with easy transportation, the nearest international airport is just 1 hour away. 

Hundreds of great restaurants, vibrant nightlife, and great communities make the town ideal for young digital nomads and solo ex-pats, and international families.
Cons of Living in Tamrindo, Costa Rica
Tamarindo can be busy as it's also a thriving tourist destination which leads the town to higher costs and annoying crowds.

Traditional Costa Rican culture isn't remaining much because of foreign travelers visiting the town every day. 

Rain in Tamarindo is often a downpour, during the rainy season it's a little hard to move around.

Although the crime rate in Tamarindo is low, you will need to be aware of pickpockets. 

Tamarindo is somehow affordable but the region is generally more expensive than other parts of the country due to its tourism. 

The nearest hospital is about 1 hour away from the town. 
Life in Tamarindo – Summary & Conclusion
There are lots of great places to live around the world for people looking for a healthier and happier lifestyle living close to nature. And you may find some other cities and small towns around the globe that are less expensive and offers much more than Tamarindo. But Tamarindo will in fact be on your list of possible options because of its diverse culture and affordability of living.
Tamarindo is one of the best places to live especially if you are planning to get retired abroad, or you are looking for work-life balance as a remote worker, or digital nomad as well as just being any other individual trying to make a living while being healthy and productive. It is possible to find expats like you in nearly every corner of Tamarindo, people are friendly and hospitable, generous and respectful, and they believe in living a simple life. 
Above all this, living in Tamarindo or anywhere in Costa Rica does require a little more patience and a calm understanding of the culture. But If you're looking for a simple and productive life away from crowds, Tamarindo is a great place to live — one of the best on this planet. 
Frequently Asked Questions! 
Q: What is it like to live in Tamarindo?

You can expect to live a simple lifestyle in Tamarindo. It's a small town with a lot of beaches and a lot of outdoor activities, as well as healthy food. The town is not crowded but during peak seasons you can expect some crowds because it's popular with tourists from around the globe. A day-to-day life depends on your activities and tasks but Tamarindo being so close to nature offers a great environment to stay productive.
Q: Is Tamarindo a party town?
No, Tamarindo is a family-friendly place to live but because of its vibrant nightlife it's also called a "party town". There is a rush of young travelers and adventure seekers you will find some parties happening once the sun goes down. So yes, it's both family-friendly and a party town in northern Costa Rica. 
Q: Is Tamarindo good for expats?

Yes, Tamarindo is one of the best locations in Costa Rica for expats. It has plenty to offer, and the affordability of living, amazing outdoors, great restaurants, incredible beaches, and great communities make the town ideal for young digital nomads and solo expats, and international families.
Q: Is Tamarindo more expensive?
Tamarindo is somehow affordable but the region is generally more expensive than other parts of the country due to its tourism. It's expensive because the town is so famous for surfing and filled with adventure water sports and luxury resorts. Tamarindo is not as expensive as other cities in terms of food and transportation, but accommodation is a bit expensive.  
Q: Is Tamarindo good for families?
Yes, Tamarindo is a fantastic place to live with your family. The education system in Costa Rica is one of the best in all Latin American countries with a literacy rate of 98 percent. And there are a lot of great bilingual schools in Tamarindo so you don't have to worry about the education of your children. But of course, the older your children are, the more they likely are to enjoy all the adventure activities that Tamarindo has to offer.