Whether you want to visit Tamarindo, La Fortuna, Puntarenas, Playa Hermosa, Boca Tapada, or all of them, your flight to Costa Rica will probably land at Juan Santamaria International Airport in San Jose – the capital city of Costa Rica. And if you are looking for a comprehensive guide to San Jose International Airport with advice on things to know, ways to move around, transfer, and transportation, then you are at the right place, We've put together all the information in this detailed guide to help you with everything you need at the airport.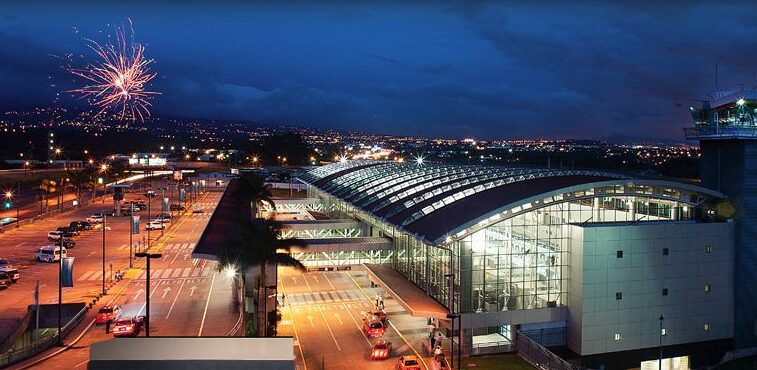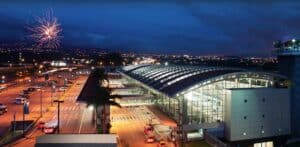 Juan Santamaria International Airport is Costa Rica's main international airport that welcomes the most passengers who fly into the country. It's also known as the San Jose International Airport because it's the primary airport that serves San Jose – the capital city of Costa Rica. Named after Costa Rica's national hero, Juan Santamaría San Jose International Airport is located roughly 20 kilometers away from downtown San Jose.
Juan Santamaria International Airport is the largest among the four international airports in the country. It's much bigger than Liberia International Airport in Guanacaste with a greater passenger capacity, more airlines, and connection with more destinations across the globe. It was the only airport in the country for many years until its fellow international airport Liberia International Airport opened in 1995 serving West Costa Rica. 
The San Jose International Airport (SJO) is the busiest airport in the country as the majority of travelers coming to Costa Rica use this airport. It was once also the busiest airport in Central America and it's still the second busiest airport in Central America handling a whopping 4.6 million passengers every year. Including domestic and international passengers nearly 3.5 million travelers used the airport in 2021.
Juan Santamaria Airport features two terminals, one for domestic operations and one for international passenger flights. The domestic terminal handles passengers traveling within the country but the international terminal has 20 gates, and sometimes it gets busy. The airport's sole runway allows operations of large aircraft including Airbus A330, A340, and A350, and Boeing 747, 767, 777, and 787, for both passengers and freight. The airport was built and officially inaugurated in May 1958. It was first called "Aeropuerto Internacional el Coco" and It was later renamed "Juan Santamaria International Airport" in honor of Juan Santamaría – one of the most popular figures in Latin America and the national hero of Costa Rica.
Airlines Flying to Juan Santamaria International Airport 
There are many major airlines that fly directly to the airport from major hubs in North America and Europe. If you are flying from any country in Asia or Africa you may need a connecting flight. Here is more about major airlines and their routes and destinations.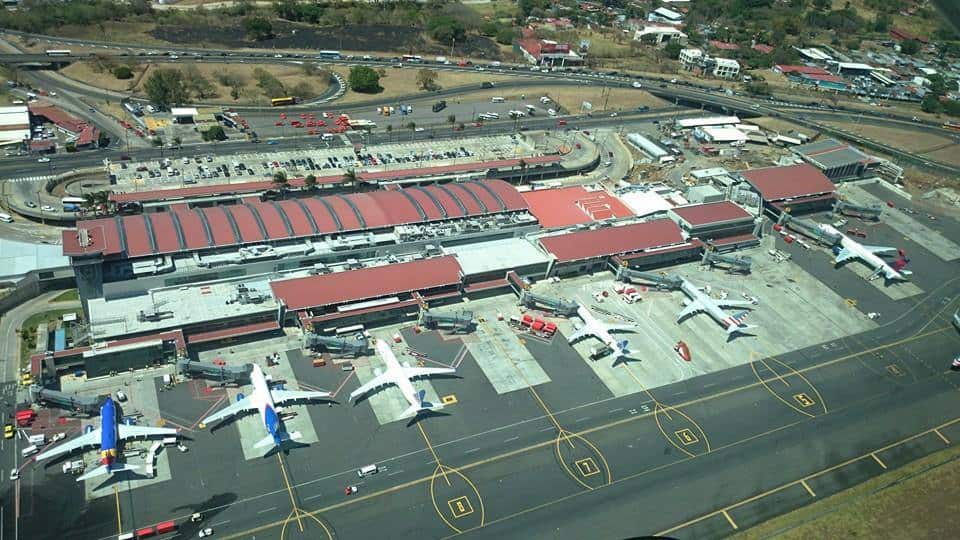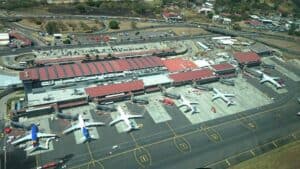 Major International Airlines & Destinations 
Aeroméxico: Mexico City
Air Canada: Montréal–Trudeau, Toronto–Pearson
Air France: Paris–Charles de Gaulle
Alaska Airlines: Los Angeles
American Airlines: Dallas/Fort Worth, Miami
Arajet: Santo Domingo–Las Américas
Avianca El Salvador: San Salvador
Copa Airlines: Guatemala City, Panama City–Tocumen
Delta Air Lines: Atlanta, Los Angeles
JetBlue: Fort Lauderdale, New York–JFK, Orlando
Southwest Airlines: Baltimore, Houston–Hobby
Spirit Airlines: Fort Lauderdale, Miami, Orlando
United Airlines: Houston–Intercontinental, Los Angeles, Newark
Volaris Costa Rica: Bogotá, Cancún, Guatemala City, Lima, Mexico City, San Salvador, New York–JFKb
Domestic Airlines & Destinations
Sansa Airlines: Costa Esmeralda, Coto 47, Drake Bay, Golfito, La Fortuna/San Carlos, Liberia (CR), Limón, Nosara Beach, Palmar Sur, Pérez Zeledón, Puerto Jiménez, Quepos, Tamarindo, Tambor, Tortuguero
Costa Rica Green Airways: Quepos, Tambor
There are other airlines including KLM, British Airways, and others that operate seasonal flights from many cities like Amsterdam, London, and a few more popular destinations. Only two domestic airlines Sansa & Green Airways operate flights to many cities in Costa Rica, for a quick and easy transfer you can book a domestic flight to the nearby towns including Tamrindo, Nosara, and others.
Juan Santamaria International Airport's Quick Details  
Name: Juan Santamaría International Airport (Spanish: Aeropuerto Internacional Juan Santamaría)
Airport Code: SJO
Location: Alajuela Province, Alajuela, Costa Rica
Operator: Aeris Holdings Costa Rica (the airport is owned by Gov of Costa Rica)
Contact: +506 2437-2400,  [email protected]
More Info: Visit sjoairport.com for more information

Additionally, you can check the passenger guide for easy movement inside the terminal. For support and inquiry, you can contact any of the five different departments at their contact numbers or filling a form online. All this information is taken from the website of SJO airport and you may refer to the contact page of the airport's website before using any detail mentioned here.
How to get from Juan Santamaria Airport to Tamarindo?
There isn't any subway system in San Jose, Costa Rica, neither you get the option to travel to Tamarindo by train, but thankfully you get public transportation to travel to many places in Costa Rica. Here are the following ways to get to Tamarindo from the airport
Public Bus:  When you exit the airport after landing, You can go to any of the bus terminals such as Pulmitam, 7-10, Terminal Atlantico Norte, and Terminal del Caribe to get a bus to Tamarindo. You can get a bus to Tamarindo via Liberia, and it takes about 5-6 hours. The average cost of a bus ticket is between $7 to $11 per person. Alfaro which is a popular bus company runs two buses per day from San José: 11:30 a.m. and 3:30 p.m.
Private Shuttle: If you want absolute comfort, the easiest and safest transfer from the airport to Tamarindo, then you can book your private shuttle with us. Once you land at the airport your private driver will be ready and waiting outside the terminal to pick you up. From taking your baggage inside the van to reaching the final destination our drivers can ensure a smooth transfer.
We highly recommend private shuttles to have a stress-free travel experience and to avoid navigating unfamiliar roads yourself. The average cost of a private shuttle from San Jose to Tamarindo is $250-$350 depending on the size of the vehicle and passengers. 
Car Rental: If inside you there is an adventurer who loves the thrill of driving, and you have a valid driving license and proper driving skills, then you can pick a rental car at the airport. The average drive time is about 3-4 hours from the airport to Tamarindo. The service can cost a lot depending on the vehicle you rent and the mandatory insurance with it. It can cost you $30-$75 per day + insurance charges. 
Shared Shuttle: Looking for a smooth ride, much more comfortable than the public bus, but can't go with the private shuttle, this option is best for you. This costs around $40 – $60 for a shared ride, but you need to find your way to your hotel after reaching Tamarindo.
What to Expect at Juan Santamaria International Airport?
Juan Santamaria International Airport is one of the main airports of Costa Rica and there is a lot to expect inside the airport. It's small compared to other airports but it's clean and efficient and makes both arrival and departure smooth no matter whether you are taking a domestic flight or you're arriving from an international destination. Although it's considered a small airport but its passenger capacity makes it one of the busiest airports, you're likely to be in a line at immigration when you arrive. It is always better to arrive early if you have an international flight from the airport.
There aren't many shops or amenities inside the terminal but you get all the important facilities and services, and a few restaurants and coffee shops as well. There are a few fast food restaurants serving Costa Rican flavors. You get Quiznos, Starbucks, a cafe, and a small food court with Smashburger, and other fast food options. If you've got some time then you can head to Ron Centenario Bar & Café to try some drinks at the airport. 
The majority of shops here are for souvenirs, and there are also some duty-free stores inside the terminal where you can buy watches, jewelry, perfume, alcohol, etc. But for shopping, there aren't many options, and if you are finding a gift then it's best to purchase gifts from local shops during your trip rather than at the airport. Juan Santamaria International Airport isn't just a modern building but it is also a place where travelers can relax, unwind, shop, and eat while passing through it. You can use the airport lounge for free if you're among American Express Cardomatic cardholders, and other travelers need to pay $28 to access the lounge. 
You get free Wifi to stay connected with something important or your social media as well as your favorite shows to kill some time during a long layover. The airport also offers other facilities including ATMs, currency exchange, disabled access, lost and found, and other things. After arriving at Juan Santamaria International you can also purchase a Costa Rican sim card in case your current SIM doesn't have an international roaming pack or doesn't work properly in Costa Rica. If you want to explore San Jose, and its tropical forests, national parks, as well as dreamy beaches, Juan Santamaria Airport is the best airport to fly into the country.
Best Places to Stay near Juan Santamaria International Airport
It's always better to move to your hotel after your landing at the airport by using the transportation that works for you because most hotels close to the airport are expensive and may not be available for booking when you arrive. But If you are looking to stay in San Jose before heading to your final destination, or before boarding your next flight you can book a hotel close to the airport. Here are some hotels near San Jose Airport 
Fairfield by Marriott San Jose Airport: You can stay at this hotel, it's the closest hotel to Juan Santamaria International Airport, and the hotel provides accommodation with a restaurant, private parking, a fitness center, and a bar. The hotel offers a terrace, a 24-hour front desk, and free WiFi is also available. It costs around $120 per night for a room. 
Holiday Inn Express San Jose Airport: Situated just 1.5 km from Juan Santamaria International Airport, Holiday Inn offers a free 24-hour airport shuttle, an outdoor pool, and a gym. The rooms include free Wi-Fi. The breakfast buffet includes eggs and bacon, cereal, and cinnamon rolls, you can find an international restaurant and a bar with live music. It costs around $140 per night.
Other Hotels: There are plenty of cheap hotels you can stay in other than these two hotels. Try to find one that is close to the airport and fits your budget. But we highly recommended moving to your holiday destination and the hotel which you might have already booked for your entire trip.
Frequently Asked Questions!
Q. Where is Juan Santamaria International Airport situated?
Juan Santamaria International Airport is located in the city of Alajuela, 20 km (12 miles) west of downtown San Jose, Costa Rica, it's one of four international airports in the country, and the primary airport serving San Jose, the capital of Costa Rica.

Q. What airport do you fly into to go to Tamarindo Costa Rica?
There are two airports you can fly into to get to Tamarindo. You can either fly to Juan Santamaria International Airport (SJO) in San Jose or Daniel Oduber Quirós International Airport (LIR) in Liberia. But you will be much closer to Tamarindo if you choose Liberia International Airport, You can drive to Tamarindo or get a car rental from both airports.
Q. How long does it take to get from Juan Santamaria International Airport to Tamarindo?
The distance between San Jose Airport and Tamarindo is 247.2 km it takes about 5-6 hours to travel by bus and 3-4 hours in a car or shuttle. There are several options for transportation, you can either travel in public buses or private shuttles. You can also get a short flight to Tamarindo Airport which costs between $100 – 300 and takes about an hour.
Q. How much is a taxi from San Jose Airport to Tamarindo?
A taxi from San Jose Airport to Tamarindo which takes around 3-4 hours charges $60 – $100 per ride. It's cheaper than a private shuttle or car rental but much more expensive than a bus.
Q. Is it better to fly into San Jose or Liberia Costa Rica?
Both airports are great entry points in Costa Rica. But we highly recommend flying to Liberia International Airport – the closest airport to Tamarindo. And it's also up to you, you can pick the one best for you. If you are visiting places such as Paquera, Tambor, Montezuma, or Santa Teresa, look no further and choose (SJO) in San Jose. And because SJO has more airlines you can get a cheaper ticket and save some money as well.